Get out your fife and drum as F3 Raleigh celebrates our 246th Independence Day with a convergence workout!
Pee Dee, Hot Wax, Fault and High Life will lead exercises from the home of Crucible in celebration of this great nation's birthday. Join your fellow pax for a healthy sweat followed by a bit of grog! Fault There will be a Kettlebell/non-running option.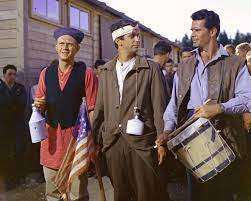 What: Independence Day convergence
When: July 4, 2022, 7-8am
Where: Williams Park (A.K.A. "The Crucible"), 1525 Lynn Rd, Raleigh, NC 27612
Who (Qs): Pee Dee, Hot Wax, Fault, High Life
Why: To exercise our Fitness, Fellowship and Faith in this country we share and in each other!
To get yourself in the spirit, take a look at past years' activity, it's a great stroll down memory lane 🙂 [DM High Life if you have any documentation for 2016, 20 or 21]
Fun fact: Steve McQueen was 33 and James Garner was 35 in 1963 when the Great Escape released.