"To us, it looks like Faith, as in a belief in something unseen and outside of the man himself". – Dredd & OBT, Freed to Lead
There are multiple ways to accelerate the 3rd F and engage your "Faith" in ways that you could have never imagined. Check out the list below to find opportunities to give back to your fellow PAX and greater Raleigh community.
Have questions on how to get involved or ideas to further accelerate The 3rd F? Reach out to Coco Crisp, Raleigh's 3rd F Q!
Have a prayer request, praise, or special intention that you'd like to lift up to the PAX or have shared in COT? Send an email to Coco Crisp at kjmaloney93@gmail.com to have it added to the running list!
3rd F Gatherings
QSource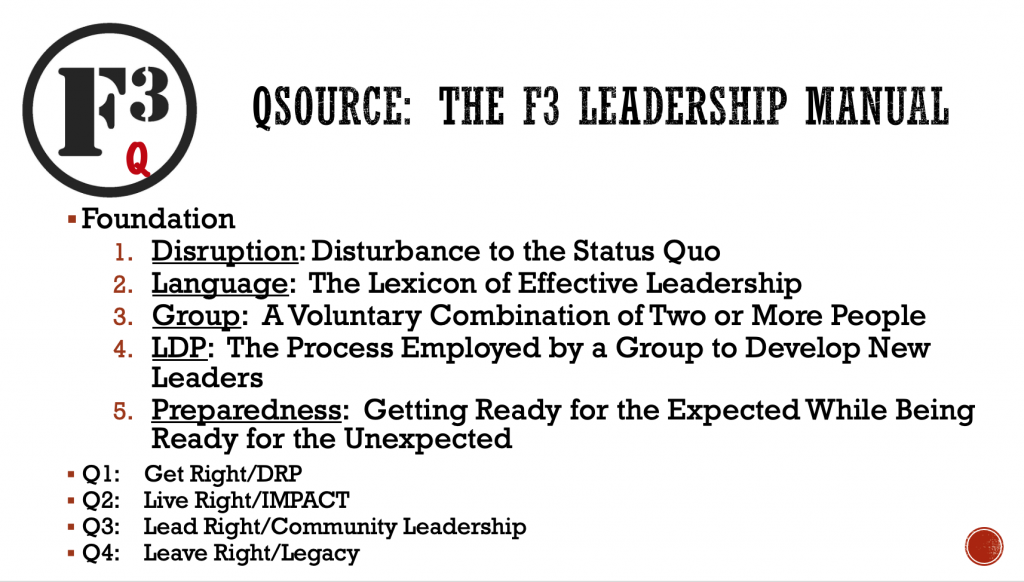 QSource is the integrated expression of F3's leadership philosophy. It is our leadership manual. As such, it is designed to be used by F3 members to improve their leadership skills for the benefit of their families, workplaces and neighborhoods. However, because it is based on timeless principles, it is also useful for any group that wants to improve the leadership skills of its members.
Community Involvement
What it's all about
The F3 Raleigh PAX frequently donate their time, talents, and funds to many worthy causes. Some of these include Burgaw Rebuilding Efforts, Haven House, Healing Transitions, Neighbor 2 Neighbor, and A Place at the Table. Continue reading to get the information you need to help make a difference!
---
Burgaw Rebuilding Efforts
It's been over a year since Hurricane Florence devastated the Whitestocking Road community in Burgaw, NC. Over 14 feet of floodwaters covered every house in the neighborhood. F3 Raleigh, Carpex, NE Wake and South Wake pax have been traveling to Burgaw every Saturday since October of 2018 mucking out and most recently rebuilding homes and restoring hope to a devastated community.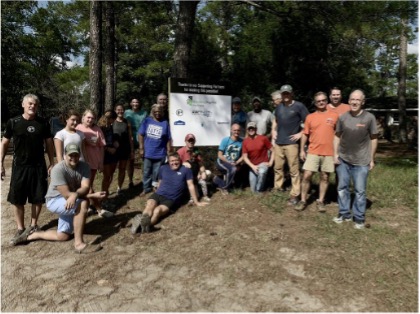 Some of our PAX helping out in Burgaw, NC
We have secured commitments from private and public sources totaling roughly $800,000 which enables F3 Raleigh to help with the reconstruction of almost every home in the community! We are so thankful for these donations and for the ability to directly impact this under-served community. Rebuilding Together of the Triangle (RTT) is a locally-governed 501(c)(3) non-profit making a sustainable impact on preserving and revitalizing homes in under-served and low-income communities. DART-ILM is a Wilmington faith based group providing on the ground intel and coordination of "hands and feet".
Rebuilding Together of the Triangle (www.rttriangle.org) and Disaster Assistance Relief Teams of Wilmington (www.dartilm.org)
How to help
We encourage every PAX, along with your M and 2.0s, to spend one Saturday a quarter serving this community. It is a life changing experience, no special skills are necessary, all tools are on-site and site supervision is provided. 90% of caring is showing up, so please, just show up!
If you're still asking, "what can I do to help out? ". here are three direct ways each PAX can make a difference.
Consider asking your employer about disaster relief grants and gifts. Many corporations have a desire to help but are unaware of specific needs. You can direct them to this effort. All it requires is you asking! At a minimum, employers will likely match employee donations, thereby doubling the impact of any donation you may be led to give. BOOM!
As you know, many PAX have headed east to this community since the beginning of October to "muck and gut" homes flooded by Florence. Each pax, and their M's and 2.0s, have been deeply moved and affected by the devastation. Here's the challenge, give one Saturday each quarter! That's it! Connect with Burger Feet (978-807-4403) or Borland (919-793-7450) when you're ready.
Pray and communicate! Please pray that sustained funding will continue and our partnership will distribute donations wisely resulting in the greatest impact. If the normal mumble chatterers are not at an AO, and you know who they are, disrupt the status quo and discuss this effort at COT and ask for prayers.
Consider yourselves empowered and ready to make an impact! Aye? Check this Google Doc in order to sign up to volunteer!
Haven House
Haven House Services was founded in 1973 to provide community-based services to at-risk youth and their families in Wake County. Some of our F3 Raleigh and F3 Carpex PAX currently serve on the board, and many guys share their time and energy supporting this organization.
Recent Accomplishments
During this year's annual fundraising campaign, approximately $173,000 raised, well above the $130,000 goal!!! Special thanks to F3 Carpex's Burt who chaired this year's campaign.
---
Healing Transitions
In addition to our Friday afternoon workout held at Healing Transitions, The Arena, check out the recently completed 2nd annual Oakwood 24, featuring Frey Daddy!
---
Neighbor to Neighbor
Your friend and mine, Yoda serves as executive director of Neighbor to Neighbor. Each year hundreds of PAX help support their annual funding campaign. Also, on Friday mornings you can find Yoda and several of the gang at Brick City.