Workout Date: 04/27/21
YHC had initially scheduled a double feature Q of Bandwidth and Max Bandwidth in the same week back in March. With Spit Valve's blessing, I cancelled those Qs for March Madness with the intention of making them up later. Today was Bandwidth's makeup Q.
I had heard from Spit Valve back in March that Mount Trashmore had opened up as a workout location at Bandwidth. When I surveyed the PAX on Facebook, Trashmore was highly encouraged. This was a great decision.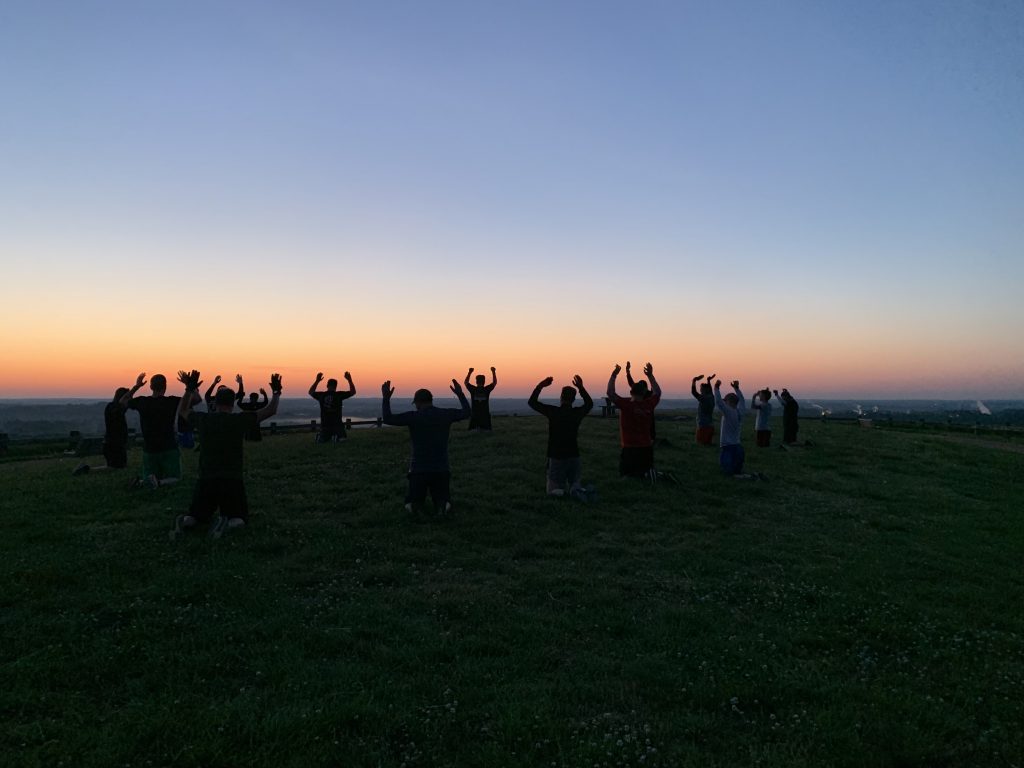 Warm Up:
Give the mission statement, check for FNGs (1!), give the disclaimer, and warm up:
Side Straddle Hop x20 In Cadence (IC)
Good Morning x10 IC
Imperial Walker x20 IC
Sir Fazio Arm Circles x10 IC Forward x10 IC Reverse
Monkey Humpers x10 IC
Standard Merkins x10 On My Down (OMD)
Mountain Climbers x10 IC
Downward Dog with calf isolation stretches
World's Greatest Stretch
Main Event
1) Partner up. Mosey to the soccer field on the way to Trashmore. Partner 1 sprints across the length of the field, followed shortly by partner 2.
2) Partner Chase (Catch Me If You Can). Merkins x5 while we are on pavement. Switch to Squats x5 when we get to the gravel hill up Trashmore.
3) Dora 1-2-3 of Merkins x100, Squats x200 (since we did squats coming up Trashmore), Little Baby Crunches x300. Runners run a lap, then flapjack.
4) Jack Webbs on the grass in the middle of the loop. Someone suggested we all face the sunrise. Good choice.
5) Two groups based on Partner number. Indian/Native Peoples/Ricky Bobby JOG back down Mount Trashmore and back to start. Finished just in time. No Mary. Cobains.
Mary:
None.
COT:
17 PAX
Welcome FNG Zero Balance! He heard about F3 from Lurch.
Announcements: F3 Wendell on Saturdays, F3 Day of Service 6/19.
Multiple prayers.
Naked Moleskin:
Going up Mount Trashmore was a great choice, T-claps to the PAX who encouraged it. What a beautiful view of both the setting Super Moon and the sunrise.
This was my thirty-first #F3Q21 #2021Challenge Q. Next Q is tomorrow at Tortoises in Carpex.
-Pigpen
QIC: Pigpen
PAX: Billy Goat, BNE, Cat Meat, Contempt, Gecko, Green Thumb, Manziel, Norwood, Pigpen, Rio, Spit Valve, Thingamabob, Tube Top, Uggs, Wort, Yard Sale, Zero Balance (FNG)
Workout Date: 04/27/21