Prologue:
Last night I was struggling to come out with an exercise outline for Ambassador. Not wanting to be too repetitive, all I could confidently decide on were Elevens back behind the park, going up Chavis Way. I decided to sleep on it and trust that something would "work out".
Warm Up:
Check for FNGs, give the mission and disclaimer, and warm up:
Side Straddle Hops x20 In Cadence (IC)
Good Mornings x10 IC
Imperial Walkers x20 IC
Sir Fazio Arm Circles x10 IC Forward, x10 IC Reverse
Monkey Humpers x10 IC
Standard Merkins x10 On My Down (OMD)
Mountain Climbers x10 IC
Downward Dog calf stretches
World's Greatest Stretch
Main Event:
1) One idea I had was to do a Rack Em Stack Em. The parking lot itself would be too small and narrow, but we could run the loop out the parking lot to MLK, to Chavis Way, and up to the side entrance back into the park. Would it be too big? Let's find out!
Rack 'Em Stack 'Em: Mercans x10, Sumo Squats x20, WW1s x30, Reverse Lunges x40
These were the same exercises I used this week at Urban Jungle, but you would need to read my backblasts to know that. Or be No Sugar or Don't Fix It, who are too polite to say anything.
2) Look at my watch and realize that we only have 20 minutes left! Time to adjust. Sevens across the top parking lot it will be. Monkey Humpers and Plank Jack Burpees. Early finishers started Little Baby Crunches x25 IC on their own. Well done!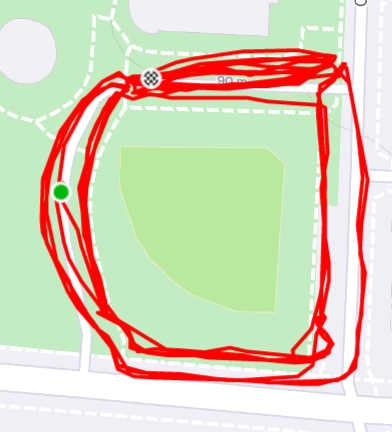 Mary:
Dolly x20 IC
Freddy Mercury x20 IC
Homer to Marge x20 IC
American Hammers x20 IC
Dying Cockroach x20 IC
Have a Nice Day
COT:
13 PAX
Don't Fix It is raising money for his nonprofit that assists teenagers in getting a taste of professions in which they are interested; prerun pledges or individual donations
YHC just finished watching The Social Dilemma on Netflix and it was very eye opening about AI's role in polarizing us. Please consider this when consuming online news and try to reach out and speak with people face to face in this divided time.
Prayers for Spicoli's Dad, please give blood (YHC went on a sidebar about Rice Krispies setting up a blood drive, cobains)
YHC took us out
Naked Moleskin:
It was cold, but dry! I figured the grass fields were still soaked from all the rain, so I didn't bother considering them for exercises.
Small crowd today, in part due to Vatican City's official launch just down the road. I only saw three or four PAX as I pulled into the lot, but some late arrivers (Whiplash double down, last minute fartsack heroics) bumped us up.
YHC got to meet Frey Daddy's GOAT dog
This was my fourteenth #F3Q21 #2021Challenge Q. Next stop is Sasquatch on 2/22 (Monday!) Wish me luck.
-Pigpen
QIC: Pigpen
PAX: Ben Johnson, Chewbecca, Don't Fix It, Drysdale, Edsel, El Duce, Frey Daddy, My Pleasure, No Sugar, Nomad, Pigpen, Spicoli (Winston-Salem), Walk This Way
Workout Date: 02/20/21