It was a great morning to be back at it at Disney with no ice or snow and a great crowd of #HIM on hand. YHC had the co-Q with Crab Legs. I put out a challenge early in the week that I would drop hints about the main event and if any one man could call out the workout after w/u I would pitch in a quick $20 for the ALS fundraiser for WB. I added I would double down to $40 if we could get 20 to post. Deadbolt nailed the answer minutes after I posted the first hint, and thanks to the 4 guys on EC, we had 20, so I am gladly out $40.
Crab Legs took us on the run for a jog to warmup before we circled up for a series of exercises including the rarely used Nancy Kerrigan. A few guys helped out our younger PAX explaining who she is, as they might have been diapered up when she had her moments of fame – good and bad. Seeing Kid Cracker out this morning also inspired Crab Legs to wrap it up with some downward dog and runners pose.
After warmup we took the fields as YHC announced we would be doing The Red Barchetta, a song by Rush based on a cool short story about joy riding in a classic car in a future when they are outlawed. The song has some backstory meaning in my life and I was pretty excited when I saw someone had turned it into an actual F3 workout.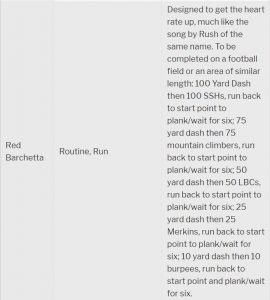 Thanks to the PAX for stepping up on some of the cadence, and we added an extra 100 yard sprint to wrap it up.
We hustled over to the playground wall, split in 2 groups and did 3 full sets alternating dips/merkins with merkins on the count, followed by same format on the wall for alternating BTTW and Star Jump Squats.
Crab Legs took back over for MARY with some long counts on the six to burn out the core. Pretty sure feet never touched the ground.
Countoff 16#HIM
Name-o-rama
Announcements – Blue Ridge Relay info can be found on slack channel; ALS fundraiser going strong
Prayer Requests – Deadbolt's mother-in-law; Blue Hen's daughter; all those dealing with illness this season; PAX on travel
Reminder – flu is going strong so keep an eye on family and friends, stay healthy
Crab Legs took us out in prayer