Following an epic presence and performance by F3 at Pole 2 Pole Wednesday morning, we did our best to keep the momentum at Disney. Several PAX have stated they have been missing the stairs as we have avoided them through the cold and icy conditions.  Therefore, we got back to business in the gloom with a little stairing contest.
EC for Nemo and Chips, and let's throw credit at FNG Ausfart as he woke up, showered, and arrived (at the wrong parking lot) at 0505 to make sure he was ready for his first F3 experience.
Great to see New Mexico out there and ready to roll.
We headed straight out on the warmup jog down to the lower lot and circled up for SSH ICx20, Good Mornings ICx10, Walking Imperial Walkers to Walking Hillbillies, shoulder/arm/chest stretch.
Never wanting to miss an opportunity on the bench and as long as we were already there, we did a quick round of tempo dips ICx10, SSH ICx10 and shoulder taps ICx10. We did this 3 times with 10 count recovery between.
On the Indian Run we headed to the stairs with a short break in the next lot for a quick 1 round plank/bear crawl Indian Run.
Split in 2 groups for spacing we did a 6 round stairing contest. One group started up top, other was down at the bottom. At the top, group did 10 count merkins. At the bottom, group did 10 count star jumps. Switch and repeat with each group making 6 trips up the stairs to complete.  Many of us have never seen "The  Abyss" in the  daylight so I went out this week and took a picture to share below.  Interesting how different it looks.
After a plank hold we were on the recovery jog back to start for MARY that included YHC taking us through most of the common exercises and enough time saved for a quick plank-o-rama.  I was thinking Puddles was gonna be the plank-o MVP with an insane extended 10 count but LipStick jumped in and dropped the diamond merkins on the PAX to amp things up.
Countoff was 9 #HIM as it looks like the F3 guys must have had some pretty decent Valentine's night activities that kept them in the fartsack.
Name-o-Rama included Puddles friend FNG Ausfart (yes, we dropped the "h" for a reason) who brought great energy to the gloom.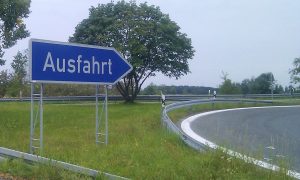 For those keeping track at home, I logged 1.45 miles – that includes the stair work.
Announcements – Upcoming activities, BRR meeting to be scheduled
Prayer Requests – Victims of Florida school shooting, took a moment of silence to allow for us to reflect on unspoken as well
YHC took us out in prayer.