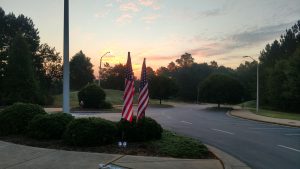 I think the Thursday posting is the toughest one when you're in the middle of going for a 5 pack.  That being sad, YHC was glad I was the Q because my legs said fartsack but my heart said post and Q.  I am so glad I did.  You never regret posting for a F3 workout – especially Disney.  18 men rolled into the parking lot at Middle Creek park.  There were no FNGs.  The shovel flags were planted and we circled up!
Warmup
Good Mornings
Tow touch stretches (left over right then right over left)
SSH x 20 IC
Fazio Arm Circles (10F and 10 R)
Mountain Climbers x 20 IC
The Thang:
Half mile scout run (thanks to Stretch for the inspiration).
Pax forms a line with spacing a little wider than a typical indian run
Slow – steady jog starts
First one in line sprints out ahead of the pax as far as he wants and then turns around, looping all the way back to the back of the pax line
repeat with next at the front of the line – never leaving the 6 behind
We did this around the baseball fields for 1/2 mile
After then – group for Standard Merkins x 20 IC then head to the stairs with recovery jog
10 Rounds of Agony
Find an accountability partner – similar fitness level – stay with that partner at all times – hold him accountable for push and form
Split pax into two groups – one goes down to bottom – one stays at top – partners stick together
Do the written exercise reps then pax runs stairs (up/down or down/up) returning to start place for their group
the exercises and reps were

50 Squats
45 Mountain Climbers
40 Jump Lunges
35 SSH
30 WWII
25 Star Jumps
20 Standard Merkins
15 Low Slow Flutters
10 Diamond Merkins
5 Burpees
then another 0.3 mile Scout run around the baseball fields to gather at the main gate to the parking area.  Jailbreak (sprint as hard as you can go) to the COT Area
COT
Shirt orders – 44 and counting
Carpex CSAUP – 10/7
FIA / F3 Convergency 10/14
Races
2nd F tonight about life insurance at Hickory Tavern – 5:30 – Draper and Wadfather have the Q
Prayers for Crablegs  – we are with you Brother.
Humbled to lead – honored to call you fiends.
DB