AO: Black Sheep (JoCoGa)
Workout Date: 05/25/21
This is my third trip to JoCoGa. I reached out to Bouchér yesterday to get some tips on Black Sheep and to get an idea of what the PAX did last week to try to avoid repetition. Repeating myself was less of a concern, although I try to avoid that, too. Mamajuana's VQ was a solid beatdown from what I hear!
Warm Up:
Give the mission statement, verify no FNGs, give the disclaimer, and warm up:
Side Straddle Hop x20 In Cadence (IC)
Good Morning x10 IC
Imperial Walker x20 IC
Standard Merkins x10 On My Down (OMD) (Skipped my typical Monkey Humpers today and inadvertently skipped Sir Fazios; my shoulder felt it on the merkins)
Mountain Climbers x10 IC
Downward Dog with calf isolation stretches
World's Greatest Stretch
Main Event
1) Mosey around behind the school for 10 reps of Left-Right step ups, Irkins, Dips, Elevated Crunches, and Derkins. Skipped my typical 10-15-10 pyramid (just like the day prior at Winterfell) for variety (I did 10-15-10 and 10-20 at my prior Garner Qs) and again to take it easy on my shoulder. Also again, I told how the Danger Zone guys renamed elevated crunches as "Little Gyno Crunches" and this time some PAX actually laughed. Someone asked if Burt was there (Yes).
2) Elevens (Squats and Star Jumps)
3) Mosey the rest of the way around the school building and to the hill in front of the school for Jacob's Ladder
4) Mosey back to starting parking lot for Bear Crawl/Lunge Walk Sevens between the curbs. Exercises were Hand Release Merkins and Carolina Dry Docks
Mary:
Dolly x10 IC
Rosalita x10 IC
Freddy Mercury x20 IC
Homer to Marge x20 IC
Windshield Wipers x10 IC
Have a Nice Day
COT:
9 PAX
Announcements: Raleigh official Memorial Day Convergence 5/31 0530 Garner Station. Axe Throwing CSAUP in Eastern NC on 6/5. El Duce's Recovery on the Run 6/12 at Dorothea Dix. F3 Raleigh Day of Service 6/19 starting at Vatican City.
Prayers for parents dealing with elderly siblings, house closings, birthdays for four year olds (the best!), 25th Anniversary celebration planning, prayers unspoken.
Dirty Pipes took us out
Naked Moleskin:
Two (Bouchér and YHC) for coffeeteria at Aversboro Coffee
It was good to see some familiar faces in JoCoGa today. Bouchér's habit of taking group photos really helps! I might start doing that as well.
Dirty Pipes has a mischievous side; he was nudging me to call bear crawls up the steep hill. Not sure whether he wanted to needle me or the PAX haha.
I realized typing up this backblast that this workout was 75% the same as yesterday (swapped out BALLS for Jacob's Ladder). Good thing nobody followed me from Carpex to JoCoGa and nobody reads backblasts. To celebrate you getting this far, I'll give $1 to the first PAX to reply to this backblast with "Go Canes!" (Round 1 Game 5 of the Stanley Cup is tonight at 8PM). (EDIT: Bouchér is our winner, who commented on the run on Strava)
This was my fiftieth #F3Q21 #2021Challenge Q. Next Q is Wednesday (tomorrow) at Ball Bearings.
-Pigpen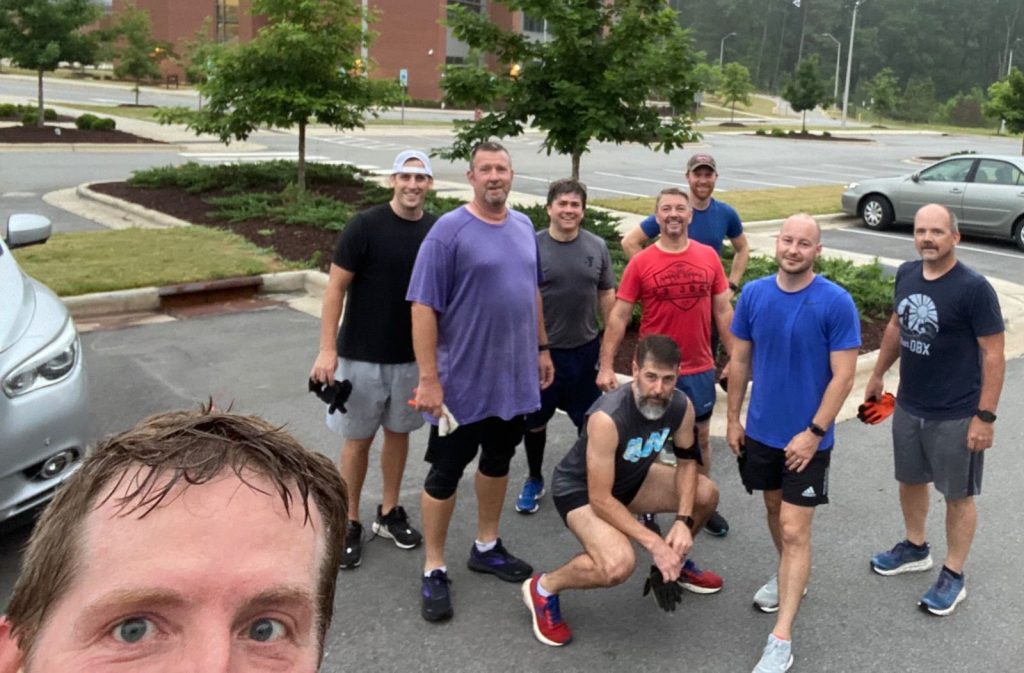 QIC: Pigpen
PAX: Bouchér, Dirty Pipes, Jerk, Khakis, Mamajuana, Marky Mark, Piddler, Pigpen, Slinky
Workout Date: 05/25/21