Beginning this Monday, November 5, 2018, Eastbound and Down will transition from a bootcamp style workout to "The Murph". The new name is Monday Murph and the new twitter handle is @F3_MondayMurph.
We will start at Eastgate park, run to North Hills and complete "The Murph" and run back to Eastgate park. Scaling options are available. Q's are still needed to lead the warm up and COT so please sign up.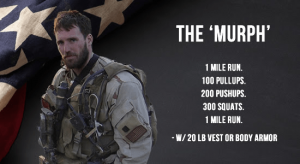 "The Murph"
1-mile run
100 pull-ups
200 push-ups
300 squats
1-mile run
*20lb weight vest or body armor is optional
See you there!