Prologue:
Having never posted Schoolhouse, I wanted to get to the site early and scout things out. I took a quick prerun lap and really liked the quiet hill in the back parking lot. When I got back from the prerun I quickly recognized some Raleigh gazelles and told myself I'd need to step it up a bit.
Warm Up:
Check for FNGs, give the mission and disclaimer, and warm up:
Side Straddle Hops x20 In Cadence (IC)
Good Mornings x10 IC
Imperial Walkers x20 IC
Sir Fazio Arm Circles x10 IC Forward, x10 IC Reverse
Monkey Humpers x10 IC (Good chuckles from Tent City's 2.0s on this one)
Standard Merkins x10 On My Down (OMD)
Mountain Climbers x10 IC
Downward Dog calf stretches
World's Greatest Stretch
Main Event:
1) Head to back parking lot and down back entrance hill for Eights: Start with 7 Monkey Humpers at the bottom of the hill (gazelles could start further down to get more distance) and 1 Burpee at the top. After a couple of rounds, it becomes obvious that there's a decent amount of school employees coming in that entrance at this hour. Schoolhouse regulars seem to have expected my mistake. New Mexico suggests an alternate hill some distance away, but YHC thought we would be done soon enough. I did call an audible to move over to the parking lane that runs parallel to the entrance. Of course, right after that somebody drives in there as well. It's over soon enough.
2) Mosey back to our entrance into the back parking lot and partner up for Dora 1-2-3s: 100 Merkins, 200 LBCs, 300 Squats. Partner runs big parking lot loop. Less traffic this time, but not zero. Side Note: I've learned to verify that everyone knows an exercise when I call it. There was a resounding "Yeah" this morning.
3) Mosey back to start too early for Mary. Give PAX choice between Jack Webbs and Bat Wings. Some PAX ask, "What are Bat Wings?" Bouchér takes his gloves off and says get on with it. Burfer Feet just grimaces. Bat Wings it is.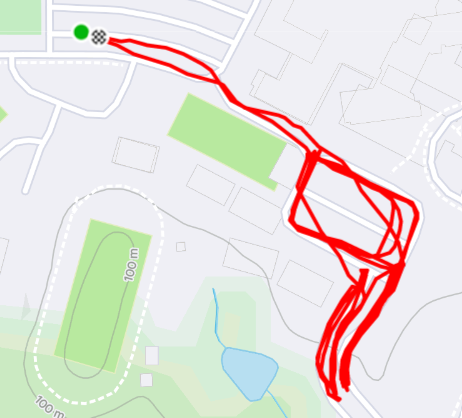 Mary:
No Mary, Bat Wings took too much time. Maybe should've just done extended Mary instead. Cobains.
COT:
18 PAX
Bouchér is looking to build up F3 Garner. If anyone knows any potential Garner FNGs, please let him know.
Prayers for New Mexico's college roommate's wife and their family; prayers for E-Trade's mother; prayers for Flatline's friend's son Lucas; prayers for teachers; prayers for Drive By and his M with 2.0 on the way; prayers unspoken.
YHC took us out
Naked Moleskin:
Schoolhouse is a great AO with lots of space and lighting. The back parking lot is much busier at 0545 than it is at 0520. Lesson learned. YHC appreciates the PAX's patience.
The rumors about great 2nd F afterwards at Angie's are true!
This was my sixteenth #F3Q21 #2021Challenge Q. Next stop is Vatican City on 2/27 (Saturday)
-Pigpen
QIC: Pigpen
PAX: Bouchér, Burger Feet, Drive By, El Chapo, El Guapo, Flatline, Gotta Wife, Khakis, ManRam, New Mexico, The Piddler, Power Play (Tent City 2.0), Pigpen, Rampage (Tent City 2.0), Slinky, Soccer Dad, Tent City, Ziploc
Workout Date: 02/24/21