The TRIPLE DOWN 2017!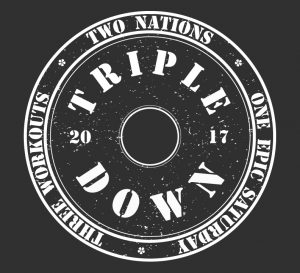 What
This is actually a FiA event, it is a convergence to celebrate 3 years of FiA Raleigh.. yea you read that right.  We will be breaking F3's 4th rule (or whichever one it is) that says only dudes allowed.  Three Workouts.. Quickhatch (Ruck), Weekend Crick & Flight Deck.  Come to one or come to all workouts.  Bring your M, sister, daughter or whoever (we wont ask questions) along with you to check out FiA or just see what it is you do at F3.
Why
Believe it or not F3 Raleigh helped launch FiA Raleigh.  Charlotte was tied up launching FiA Lincoln, Colombia and some other site that wasn't 2.5 hours away.  They wanted to help but we offered to help kick it off.  Two years ago a few men dug down and found a little leftover energy to help lead the beta workout for FiA Raleigh which followed our regular Saturday workouts.  We lead the first four workouts until a couple of the girls had gleaned enough from us to lead their own workouts.  It became somewhat of a challenge to the men to see who could stick it out through all three workouts (the first two being F3 Quickhatch and F3 Weekend Crick).  After the fourth workout we turned the ladies loose to see if they could stand on their own and stand they did.  We thought it would be fun to come back for the anniversary.  After seeing how tough these girls have become, it only seemed right to invite them to attempt the triple down with us.
When
Saturday, October 14, 2017
0615 Quickhatch Start
0700 Weekend Crick Start
0815 Flight Deck Start
0915 COT
Where
Brier Creek Community Center (soccer fields)