Updated on 3/18/2022
PAX of F3 Raleigh, we're excited to share more details with you on the F3 Raleigh 10 Year Anniversary and Celebration.
Dates: March 25 & 26th, 2022
The agenda below is a rough estimate and will be more clearly defined and communicated over the next few weeks. If you are interested in Q-ing or supporting one of the events below, please reach out to a member of the F3 Raleigh SLT.
Friday Evening Fellowship – March 25th
6 – 9 pm
Pop has secured the Overlook Room in Tobacco Road from 6 – 9 pm next Friday, March 25th. Tobacco Road is located at 505 W Jones Street in Downtown Raleigh.
White Shoe will be fronting the bill for the evening, so be on the lookout for more details to pay him back. Thank you, WS!
Check in & event registration

Food & Drinks available – M's (Significant Others) & 2.0's (kids) welcome!

Wendell Gee's band (the Balsa Gliders) is playing a free show downtown that Friday night. They are opening for Dillon Fence at the Smokey Hollow (by Publix). I believe they go on at 6:30. If your schedule allows, go support our Brother & then come by Tobacco Road!
Saturday Early Morning – The Mule
6:15 – 9:30 am
This year's Mule planning team is Snowbird and My Precious. Below is the route that has been scheduled. We will cover approximately 9 miles not including what we add on at the particular sites. Please plan on arriving at The Forge (Pullen Park) at or around 5:45 for a 6:15 am start time. Snowbird and My Precious are anticipating a 3.5-hour event, which will bring us back to Pullen Park at approximately 9:30 am. **Popeye is leading the rucking route that will meet runners at multiple pain stations.**
Site Q's – bring your shovel flags so we can plant & leave them at The Forge or bring them with us throughout the morning.
As you see below, there are 3 scheduled aid stations throughout the morning. Each aid station will have drinks and snacks to help keep you going throughout the morning. If you are not planning on attending The Mule or know of PAX who are not but are interested in supporting, helping to manage the aid stations is a great way to do so. Please connect them with Snowbird to learn more.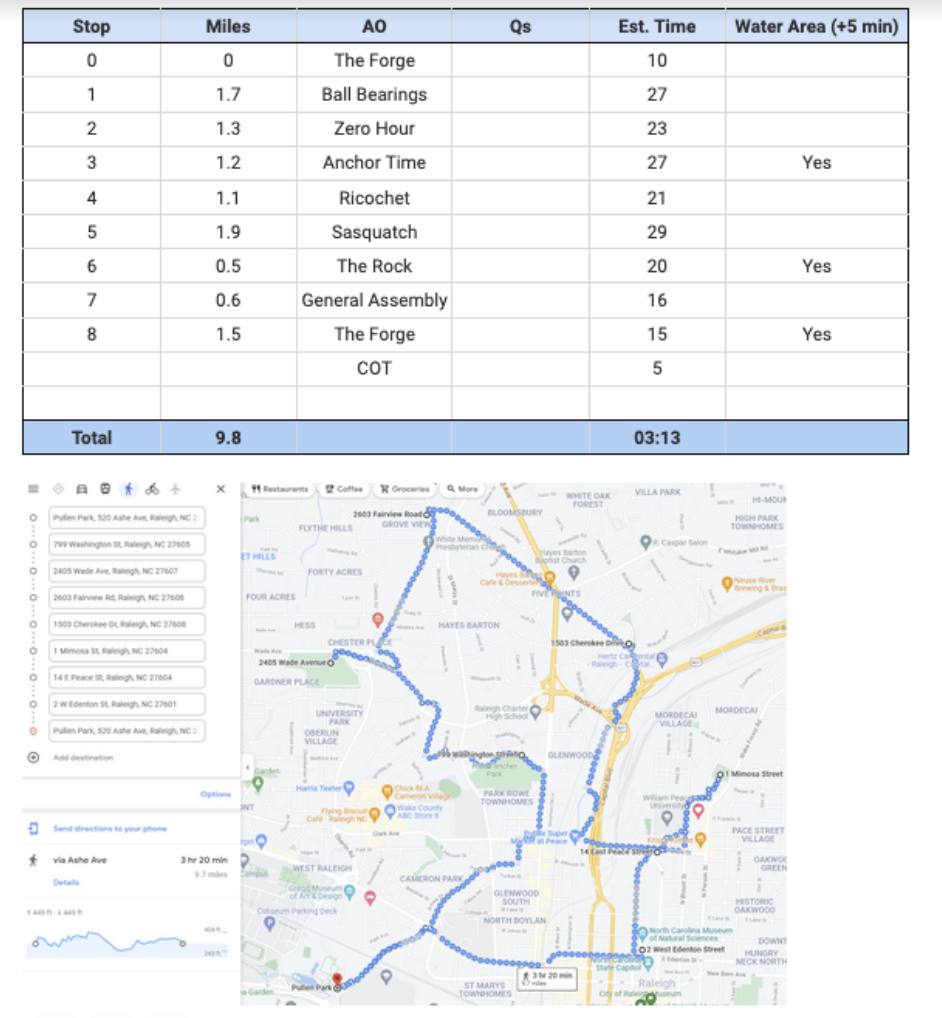 Saturday Late Morning/Early Afternoon
11 am – 2 pm
Neighbor 2 Neighbor, Healing Transitions, Haven House, and Rebuilding Together the Triangle all have agreed to and prepared projects for us to support. I am extremely grateful for these organizations and hope our support next weekend not only strengthens F3 Raleigh's bond but provides new opportunities to support.
In the bottom right-hand corner of the 10 Year Anniversary sign-up/interest form (Found Here), you will find sign-ups blocks for each of the projects by the organization. HT, HH & RTT require no more than 10, and I have assumed 20 spots for N2N. These are rough estimates based on what I know about each project. Later this evening, I will provide a summary of each project to give you some insight and help you decide where you would like to support. These summaries will be found under the sign-up block. If sign-ups "fill up", we will work with the organizations to see if there are any additional projects (or, more hands will make lighter work, and everyone finishes before 2).
For each organization, there will be a Q who will be the lead on-site and communicate any additional details with you. Those names will be listed above the sign-up blocks. If anything changes after you sign-up and you are no longer able to support, please reach out to the Q.
If possible, sign-up no later than next Thursday, 24-March, so we can give headcount expectations to our partner organizations.
T-Shirt Distribution & Payment
If you ordered a t-shirt, they will be distributed at Tobacco Road (6-9 pm), before The Mule (5:30 – 6 am), and after The Mule (9:30 – 10:00 am). Each shirt is $25. Payment can be made via Venmo (@Kenny-Maloney-1) or with Cash. Venmo is preferred to help me with tracking. Details can be found in the 10 Year sign-up sheet.
If you did not order a t-shrit, you will have the opportunity to order one on the F3 Gear Store after the conclusion of the 10 Year Anniversary.